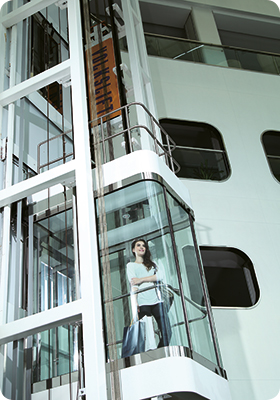 VOLKS­LIFT panorama elevators start in design, development and technology. Our engineers excavated deeply the possibilities of transparent cars and shafts to expose stunning views and technical solutions. All our efforts on design, safety, intelligence, efficiency and energy-saving have the only purpose which is to satisfy our valued customers and passengers and give them the best impression and valuable joy.
High quality material and perfect car design:
Car wall materials with laminated high safety glass.
The lamination at once provides radiation protection.
Effective sound insulation.
Large-area glass car walls creates unique perspectives.
The design with smooth lines unfolds its beauty during the drive in the elevator.